Streettheatre Irrwisch 2018
Theatre Irrwisch
quirk, crazy and comic – entertaining, amusing and amazing
Every summer Theatre
IRRWISCH
roams the streets of Europe and beyond playing their favourite instrument:
screwy humour
and
lively, infectious streettheatre.
With their ardent love to tell stories by using techniques of astonishing acrobatics – combined with witty poetry and sometimes utter madness, the company has delighted audiences all over the world.
Irrwisch repertoire includes
Comedy Streettheatre
and
Stilttheatre
performance

s
.
Enclosed you find informations about 3 IRRWISCH Shows: 2 on stilts and one on the ground – all non-verbal and for an audience of all ages.
We would love to discuss with you the possibilities of a collaboration for 2018. Please don't hesitate to get in touch for any further questions.
best wishes from Vienna!
"They are really crazy, these Austrians, this is sure. But they are it in a very exciting, smart and buffoon way…" Südkurier
WEGENSTREITS GUESTS – stilttheatre, walking-act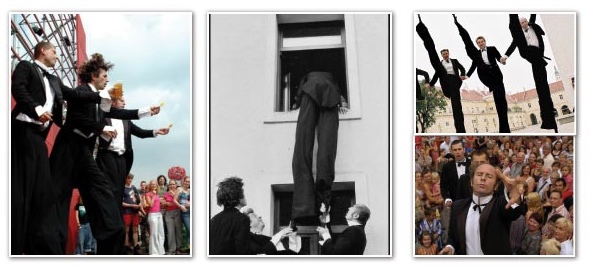 when acrobatics becomes poetry
Everywhere the
crazy figures in tails and on stilts appear the public is full of
enthusiasm. They don't talk, but they communicate a great deal.
They
don't stop at anything or anyone – they climb into other people's
balconys on the first floor, exchange a bicycle for a piece of
furniture, hi-jack buses and trams.
But
they give everything back – usually to someone else, just to give
pleasure and that, amidst the chaos they create – the nicest since fear
of it began – seems to be their only aim.
Three Irrwischs turned yesterday the pedestrian precinct upside
down. The group showed improvisation theatre of first-rate, they amazed
with acrobatics, spontaneity and funny jokes." Neue Zeit
NUJORK DENZING KWIIN – 70s style stilttheatre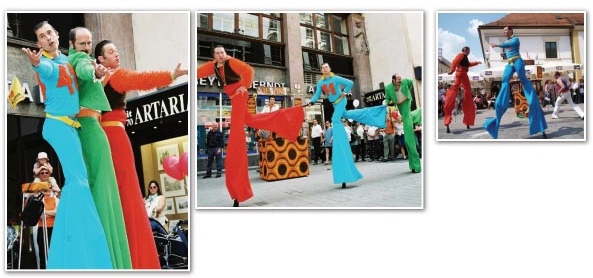 Clownesque 70s stilt-danceTheatre
Coming straight from the disco scene of
suburbia, a group of dancers and their DJ with his sound system take us
along to a trip into town.
With their garishly colored outfits and
cult movie quotes, our disco dudes resemble comic strip heroes
representatives from a weird and freaky
world
and
soon all on the streets are tapping their feet and smiling as good
vibrations spread through town and everybody's dancing along…

good vibes spread through town!



They entertain, they amuse, they enchant and provocate Neue Braunschweiger
GRANNIES – old ladies cause riots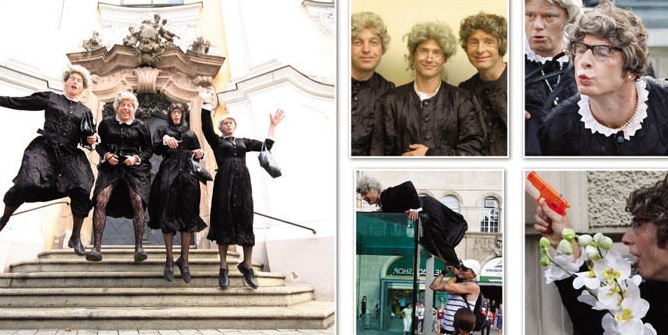 Between
madness and slapstick comedy, poetry and imagination
The
town needs more unworthy old women. And now they come! Better not mess
with these old ladies. With typical wit and physical exertion, Irrwisch
shows that pensioners could also make a riot.
The
granny gang with their little hats and brollies steal from traders,
provoke quarrels, scold children and use their umbrellas like weapons.This geriatric gang
is real, they're here and there's going to be trouble …
Nobody
and nothing could feel safe from their funny attacs, they "worked" with
full physical play and demonstrated in a spectacular manner: Even old
age does not protect against foolishness. Täglicher Anzeiger
These are just some of the shows IRRWISCH has to offer. To see what else we do, please take a look at our
website
.
International Performances

Ägypten/Egypt

Alexandria

Algerien/Algeria

Oran, Tiemcen, Constantine, Algier

Aserbeidschan/Azerbeidschan

Baku

Belgien/Belgium

Brüssel, Chassepierre, Eke, Eksel- Lommel,

Eupen, Houthalen-Helchteren, Maaseik,

Menen, Neerpelt, Opwijk, Oostende, Rochefort

Canada/Canada

Montreal, Quebec City

Dänemark/Denmark

Aarhus, Naestved, Vordingborg, Randers,

Sonderborg, Frederiksberg, Aalborg,

Herning, Gladsaxe, Esbjerg

Deutschland/Germany

Aachen, Ahlen, Altenkichen, Baden, Bad Hersfeld,

Bautzen, Berlin, Brackenheim, Braunschweig,

Brilon, Burghausen, Chemnitz, Crimmitschau,

Darmstadt, Dillingen, Dortmund, Duisburg,

Düsseldorf, Dresden, Eschwege, Esslingen,

Friedrichshafen, Gaggenau, Görlitz, Gütersloh,

Hamburg, Hamm, Hannover, Hemerten, Heppenheim,

Herne,Hildesheim, Holzminden, Idar Oberstein,

Ilsede,Jena, Kaiserslautern, Koblenz, Köln, Kötzting,

Kronberg, Lemgo, Ludwigsburg, Ludwigshafen,

Mainz, Mannheim, Marl, Mayen, Meerane, Moers,

Mosbach, München, Neuhardenberg, Oelde, Pforzheim,

Ortenberg, Radebeul, Rastatt, Recklinghausen,

Rheinfelden, Rostock, Saarbrücken, Schwerte,

Siegburg, Siegen,Siegburg, Solingen, Telgte, Torgau, Überlingen,Ulm, Wismar, Völklingen,

Weimar, Wismar, Wolfsburg, Worms

England/Great Britain

Devizes, Kendal, Manchester, Whitley Bay

Estland/Estonia

Tallinn

Frankreich/France

Epinal, Marseille, Nanterre, Paris, Perigueux,

Rouen, Sotteville les Rouen

Israel/Israel:

Bat Yam, Haifa

Italien/Italy

Arezzo, Argentario, Bergamo, Cividale,

Costa di Mezzate, Dolo, Firenze,

Genova

,

Livorno, Milano, Mira, Montegranaro, Napoli,

Nuoro, Pavia, Pisogne, Porto Santo Stefano,

San Giovanni Valdarno, Sarzana, Sassari,

Sestri Levante, Trento

Japan/ Japan

Shizuoka

Kroatien/Croatia

Varazdin, Porec,Samobor, Zadar, Split

Liechtenstein

Schaan

Luxemburg/Luxembourg

Esch sur Alzette

Mazedonien/Macedonia

Skopje

Montenegro/Montenegro

Podgorica

Niederlande/Netherlands

Amersfoort, Arcen, Beek, Brouwersdam,

Brunssum, Dalfsen, Delft, Deventer,

Doetinchem, Eijsden, Helmo, Geleen,

Gennep Heerlen, Helmond, Hertogenbosch,

Leeuwarden, Lowlands, Maastricht,

Oldenzaal, Roermond, Roggel en Neer,

Sittard, Susteren, Terschelling, Tilburg,

Valkenburg, Venlo, Vlissingen, Zwolle

Norwegen/Norway

Porsgrunn, Stavanger

Polen/Poland

Andrychow, Chojnice, Gdansk,

Gliwice/, Jedlina, Jelenia Gora, Krakow,

Lublin, Sanok, Warszawa, Wroclaw

Portugal/Portugal

Lissabon

Rumänien/Romania

Sibiu

Russland/Russia

Perm

Schweiz/Swizzerland

Baden, Basel, Bern, Brunnen, Frick,

Schwyz, Sion, Nyon

Schottland/Scotland

Edinburgh

Serbien/Serbia

Belgrad, Novi Sad, Smederevo

Simbabwe/Zimbabwe

Harare

Slowakei/Slovakia

Pezinok

Slowenien/Slovenia

Ljubljana, Maribor

Spanien/Spain

Aguilar de Campoo, Aguilar de Campoo, Amurrio, Araia, Arrigorriaga, Bilbao,

Castillion, Lanzarote, Leioa, Llodio,

Manzanares, Ourense, Santander, Tarrega,

Valladolid, Vila-Real, Santa Cruz de Tenerife

Türkei/Turkey

Tschechien/Czech Republic

Plzen, Praha, Zlin

not completed